Electronic ANSI/TPI 1-2014: National Design Standard for Metal Plate Connected Wood Truss Construction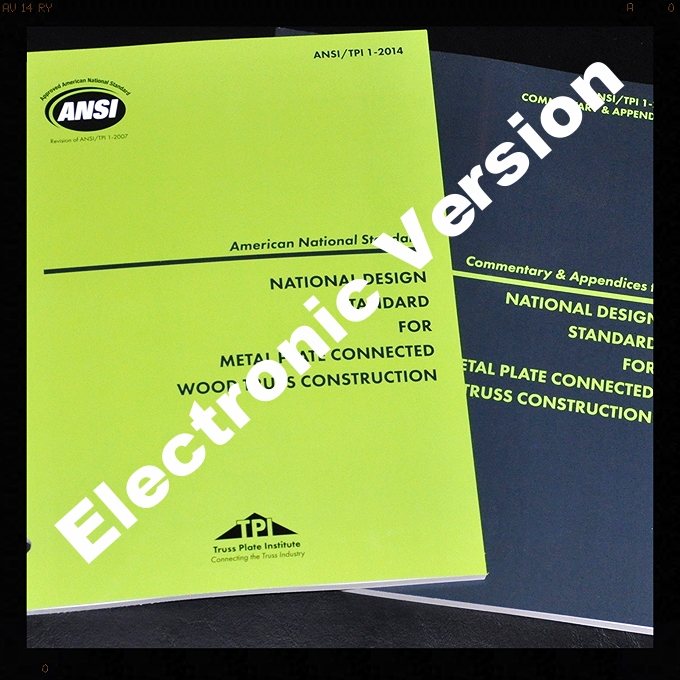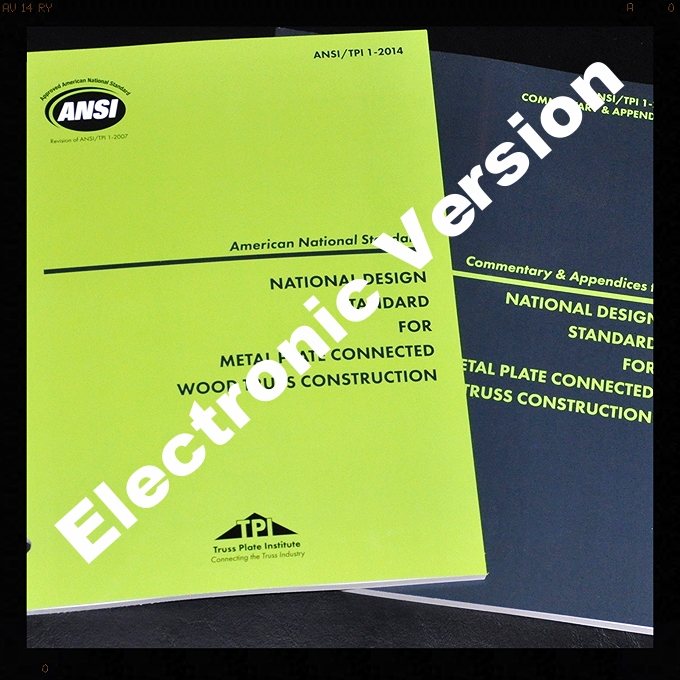 Electronic ANSI/TPI 1-2014: National Design Standard for Metal Plate Connected Wood Truss Construction
Digital Document - Download file at checkout.

Member Price* (20% discount) = $60.00
(* Member discount extends to TPI members, TPI Quality Assurance Licensees, SBCA Component Manuf. members & NFBA members only. Apply Member Discount Code at checkout to receive member discount.)
Digital and printable version of ANSI/TPI 1- 2014 Elec: National Design Standard for Metal Plate Connected Wood Truss Construction and Commentary & Appendices in electronic form. ANSI/TPI 1-2014 is a revision to the earlier 2007 edition and now includes provisions for LRFD and expanded provisions for deflection criteria. The 2014 edition is referenced in the 2015 International Building Codes. Please note that all digital document sales are final and non-refundable so if you prefer to purchase the hard copy version click HERE.
Free Read-Only download (Standard Only)
Description:
What's Changed? (list of non-editorial changes from prior edition)
ANSI/TPI 1 establishes minimum requirements for the design and construction of metal-plate-connected wood Trusses. This Standard describes the materials used in a Truss, both lumber and steel, and design procedures for Truss members and joints. Responsibilities, methods for evaluating the Metal Connector Plates, and manufacturing quality assurance for the Trusses are also contained in this Standard. ANSI/TPI 1 - 2014 Elec. consists of digital download of the Standard and Commentary & Appendices. New in this edition are provisions for Load and Resistance Factor Design (LRFD), expanded deflection criteria to include limitations often specified by Building Designers, and a reorganized Design Responsibilities chapter. ANSI/TPI 1-2014 is referenced in the 2015 International Building Codes. To see a complete list of the non-editorial changes that were made from the 2007 edition to the 2014 edition click HERE.
TPI 1 was first published as an ANSI Standard in 1995 (ANSI/TPI 1-1995). Since 1995, TPI has been updated through TPI's ANSI approved consensus process. Subsequent TPI 1 publications are the ANSI/TPI 1-2002 edition, ANSI/TPI 1-2007 edition, and the most current version, ANSI/ TPI 1-2014 edition. Earlier predecessors to TPI 1can be viewed in the TPI Archives.